With 4,500 Bar Screens installed in 20 countries, we are recognized by our clients as the Bar Screen Experts.
SCREW CONVEYORS
& COMPACTORS
High-Efficiency Screw Conveyors
& Screw Compactors
for a complete screening solution.
Extremely efficient & reliable Rotary Distributors for trickling filters.
WASTEWATER SCREEN

MANUFACTURER SINCE 1985
FB Procédés designs, manufactures, distributes and installs Bar Screens for all wastewater treatment facilities. Our range of Bar Screens provides simple, efficient and reliable screening solutions for the wastewater industry. With thousands of Bar Screens installed worldwide, we are recognized by our clients as the Bar Screen Expert.
DESIGN
Our Bar Screens and all our products are designed in-house by our engineers and our R&D department, using the latest 3D softwares.
MANUFACTURING
All our wastewater screens are made within our own manufacturing facilities. For quality control, each screen is tested before shipping. 
INSTALLATION
A team of experienced technicians is at your service to install and setup your screen wherever the site is located in the world.
MAINTENANCE
You can contact us for all your maintenance needs, whether you want to order parts or request service on our of our screens by our technicians.
MORE THAN
4,500 SCREENS

INSTALLED WORLDWIDE
Our company is made of a team of engineers, designers, technicians and sales people, all expert in screening systems.
By focusing on a single range of products – Automatic Bar Screens -, FB Procédés designed, developped and optimised screening solutions that fully answer the needs of the industry.
The company now offers a complete range of Bar Screens specifically designed for its clients. Everyday, FB Procédés uses its extensive experience and expertise to offer its clients innovative, efficient and reliable screening solutions.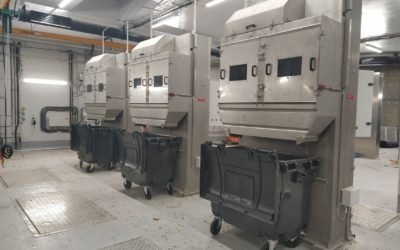 In recent days, we have started up the three Bar Screens in the Belle Ombre basin in Clermont-Ferrand, after two years ago equipping the one in the Vergnes basin with two almost identical Bar Screens. What is the function of these basins? During rainy episodes, it is...
read more